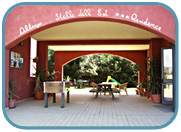 T

he Stella dell'Est Residential Hotel sits comfortably among the Mediterranean vegetation, just a few hundred meters from the town of Barisardo (Ogliastra), which offers all necessary services to our clientele (shops, cafés, restaurants, pizzerias, supermarket, post office, etc.) while our location retains the invaluable characteristic of isolation, far from the noise of any residential areas.




T

he building provides a spacious lunge of about 100 square meters for where our clients and mingle and relax in a pleasant environment.



W

e have board games, a play room for children 0-12 years, vending machines, books and a Telephone.



O

utside you'll enjoy a large park with lots of games and fun for little ones.



P

lan your stay around the numerous village festivals and get to know and love Sardinian tradition, especially traditional local cuisine.